The medical metaverse is not a small pocket of technology with a handful of applications in the medical space but the future of healthcare provision. Like the internet, the medical metaverse is likely already available in your clinic or home. The only thing you need to do is access it. 
This revolutionary technology will impact everything from patient-doctor communication to patient treatment and 'office visits.'
How the Medical Metaverse Works to Help Patients 
The medical metaverse helps patients by utilizing advanced technology, notably augmented reality, to help patients receive the best possible care. For example, AR can use the power of volumetric video, found even in smartphones, to capture actual images of your face or body. These images can then be augmented with artificial intelligence (AI) to create virtual reflection. Imagine this as looking into a mirror, but instead of an actual mirror, you're looking at a reflection made from authentic images of you by an AI. 
This reflection can be altered using AR for something as simple as a hair color change or as complex as plastic surgery. These images can then be played back and viewed from any angle so that you can interact and view any changes made to your original appearance. This invaluable information gives you a clear picture of your facial surgery's results before the procedure itself and can help you make the best decisions possible for your aesthetics.
This technology will also enable patients to communicate and work with their physicians to plan their procedures. Patients will better understand their projected outcomes and, therefore, better communicate their desired results with physicians. Most excitingly, results can be tailored in real-time, giving patients and physicians an immediate feedback loop on what the physician is planning to do and what the patient would like delivered. The better the communication between patients and physicians, the better the outcome. 
Improving Remote Patient Experiences 
The medical metaverse will make remote patient experiences more effective and expansive. Providing medical treatment remotely has never been more vital than amid the COVID-19 pandemic. The past few years have highlighted the importance of developing robust patient care options for patients who can't physically visit an office. However, as great as it has been for facilitating remote work, ZOOM is not a sufficient healthcare option for many patients. 
However, with the medical metaverse, remote patient care can evolve far past having a virtual meeting with a physician. Instead, patients could receive more advanced forms of diagnosis and care and use the medical metaverse to access the AR images and digital constructs within their own homes. This revolutionary approach would make it easier for patients to interact with their physicians without going into an office.
 Additionally, the medical metaverse will put more medical information than ever before into the hands of the patient, not just about different treatment options or conditions but also about physicians. For example, the medical metaverse could be used to create a recommendation engine for highly qualified surgeons who match your specifications. This engine would make it easy for patients to find a physician who can match their preferences and needs. 
Is the Medical Metaverse Private? 
The medical metaverse is and always will be private. Obviously, with the amount of sensitive medical data and information that will now be stored and conveyed digitally, privacy is a natural concern for many. The developers of the medical metaverse are doing everything they can to create a safe and private shared ecosystem for medical devices and technology. 
For systems like AR technology in plastic surgery, legitimate systems will only store data and simulations on the device. Such storage policies eliminate the chance of compromising images or data being shared on the internet. So if you're a privacy-conscious physician or patient, rest assured that privacy will be a defining feature of the medical metaverse. 
How the Medical Metaverse Helps Physicians 
Similar to how it will improve healthcare provision for patients, the medical metaverse will also help physicians get sales without the patient needing to visit the office. Patients can view treatment options or cosmetic procedures in their homes through the medical metaverse. This approach will allow the patient to browse various products from home, making sales possible from afar.
The medical metaverse can also improve your clinic's revenue by adding more offerings for your patients. The global medical metaverse market is projected to reach $71 billion by 2030, with consistent growth in sight. By incorporating more of the medical metaverse into your clinic, you will be able to increase your offerings to include things like:
A virtual wellness space for mediation and mental health support; 

Superior plastic surgery experiences for patients with visualized results even before the surgery is performed. 

Therapeutic virtual reality for pain management.
A Parting Reminder
The medical metaverse is an inevitability — it is the future of medical care and its normalization in the healthcare space is a question of 'when,' not 'if.' It will make healthcare experiences for physicians and patients alike more effective, accessible and enjoyable. 
If you're a patient, you should be excited that the medical metaverse will make it easier for you to interact with medical care from your own home. If you're a physician, you have a rare opportunity to be at the cutting edge of medical care. So regardless of whether you're a patient or physician, it's no understatement that the medical metaverse will completely reinvent how you experience the healthcare industry!
Schedule a consultation!
If you want to know more about how AR will impact the performance of your clinic and your relationship with your patients email us below and and someone from the office will get back to you.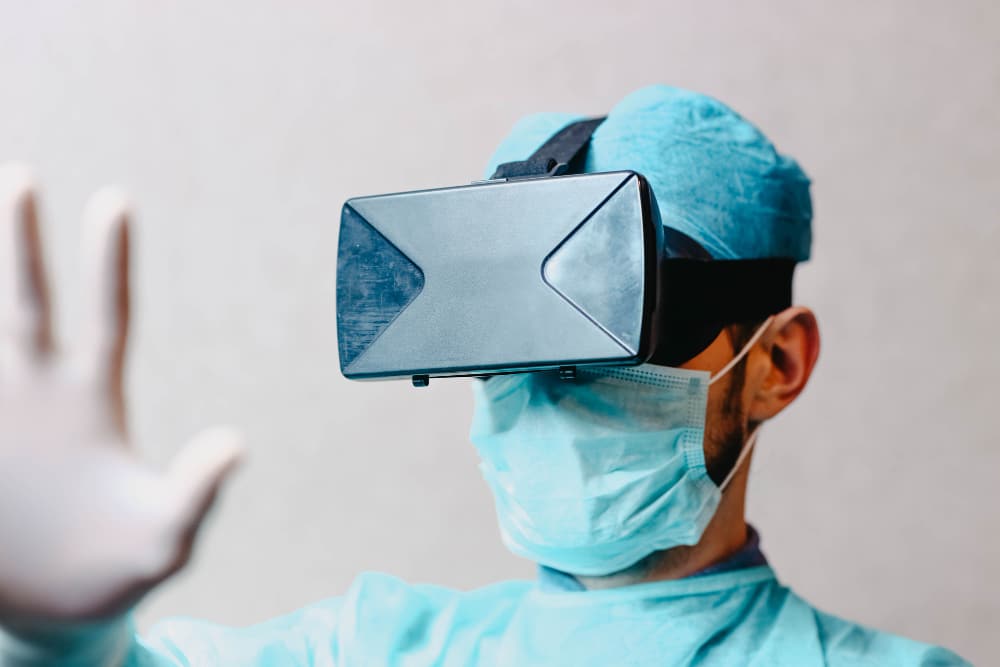 Augmented reality and the metaverse is no longer just for video games and social media. These two technologies are being applied to the medical field to completely revise how patients…
The future is now, thanks to science! As our technology advances and our digital world continues to develop, the line between the real world and the digital becomes increasingly blurred. …