The future is now, thanks to science! As our technology advances and our digital world continues to develop, the line between the real world and the digital becomes increasingly blurred. 
One example of this blurring is augmented reality (AR). Through augmented reality, we can put parts of our digital world on top of our physical one. Typically, we think about augmented reality's implications for entertainment, shopping experiences and social media. But beyond those industries, AR could completely reimagine how we experience and receive medical care. 
What is Augmented Reality? 
Augmented reality is best understood as an interactive experience of a real-world environment. That means that through AR, you're able to interact with your real-world environment through digital technology. Often, this means using a combination of cameras and displays to project a digital image over something in the real world to allow us to interact and change it in real-time. 
A good example of AR technology is Google's old Google Glass project. Google Glass worked by projecting digital images through a pair of glasses so that you could see the digital images in the real world. It allowed users not only to see the real world but also to see it digitally enhanced. 
How is Augmented Reality Used Daily?
Even more than just the example of Google Glass, currently, with even more developed AR technology, we cannot only place digital things into a physical world, but we can also make those digital images interactive and reactive. You can use AR all across your daily life. You may have come across some of these common applications of AR already, but even if you haven't, AR will likely continue to be a bigger and bigger part of daily life. 
Visualizing New Finishes or Furniture in Your House
AR technology can help you remodel or decorate your home. Through AR, you can see what that couch, paint color, finish, etc., would look like in your house before you buy it and have to go through the trouble of installing it. 
With AR, you can simply pull up a digital image of your new sofa and see it in your current living room. This lets you make more informed decisions as a consumer because instead of taking a risk on a new couch, paint color or home, you know how that new product will look in your home or what your new home will look like. 
Bringing Labels on Wine Bottles to Life
AR is also being used daily to make labels on wine bottles more interactive, which might be the future of product decoration. For example, the company Living Wine Labels uses augmented reality to turn their labels into an interactive storytelling experience and incorporate fun experiences that add value to their wine for their customers. 
Translating Signs into Different Languages
Perhaps the most exciting usage of AR in our daily lives is the ability to translate street signs and other text into different languages using our phones' cameras. One of the companies that spearheaded this technology is Word Lens, a smartphone app that allows users to use their cameras to translate street signs and text in real-time. Apps like Word Lens work almost magically by replacing the original text with translated text in the same font and size as the original, giving you a digital window into a world where all the signs and words are translated into your language of choice. 
How Does Augmented Reality Work?
So how exactly does all of this seemingly magical technology work? Through a concept called Volumetric Video. 
Volumetric Video works by capturing a three-dimensional object or space, allowing that same object or space to be digitally viewed as three-dimensional. It gets its name from its ability to capture volume or the three-dimensional space an object occupies. By reproducing that volume, you can make an object digitally interactive as it would be in the real world. 
Augmented reality relies on this technology to capture an object and space in 3D and overlay additional information to that image. For example, AR can use volumetric video to accurately scan a room and then put a digital image of a physical object that can be digitally interacted with as though it was actually in the room.
How Can Augmented Reality Impact Medicine?
AR can reinvent how patients experience medical care by helping them visualize results, make medical advice more memorable and explain how a treatment or illness will affect them.
Prosthetics 
In prosthetics, AR can be used to give patients an idea of what their prosthetic might look like and how they would be able to move and interact with it. The doctor could use AR to help explain how the prosthetic would work in a way that the patient would better understand because they would be digitally interacting with it as the doctor explains it. 
Aesthetics
AR can also be used for aesthetic medical procedures like plastic surgery, implants or fillers. The hardest thing about these procedures for the patient is the unknown of whether they'll like the aesthetic changes from the surgery. 
With AR, the patient will see the proposed aesthetic change before the surgery and be able to move around with it, interact with it and work with the doctor to tailor it to their preferences. This will lead to greater patient satisfaction and easier communication for doctors. 
The same principle applies to smaller things like hair color changes. Through AR, you'll be able to see what your new hair color or style will look like on you as you interact with it. 
The same is true for choosing a pair or style of glasses. You won't need to have a physical pair of glasses with you anymore. Instead, you can use AR technology to try on and interact with new glasses from anywhere! 
Closing Thoughts about Augmented Reality and Medicine 
Augmented reality is slowly changing many levels of our society, particularly how consumers and patients experience their products or care. In medicine, AR makes it easier to visualize and understand outcomes, removing the anxiety of undergoing prosthetic or aesthetic procedures through clearer communication.
Making it easier and simpler for doctors to explain complex medical procedures and outcomes to patients and for patients to understand and give feedback on proposed outcomes. Through these innovations, AR will make medical care clearer, simpler and less stressful for all, improving the patient experience and making care provisions easier.
Subscribe Now to Stay Current!
Want to know more about how AR will impact the performance of your clinic and your relationship with your patients?
Join our newsletter to stay up to date as we dive deeper into this emerging field of medicine.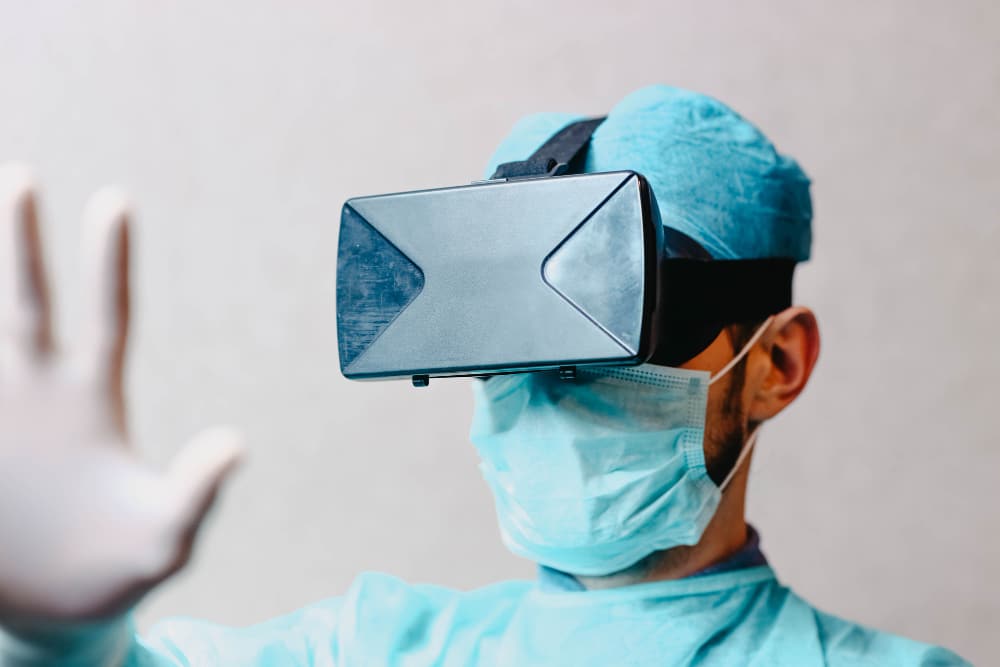 Augmented reality and the metaverse is no longer just for video games and social media. These two technologies are being applied to the medical field to completely revise how patients…