Stretching is a vital part of any workout. Experts say that "incorporating some stretching exercises into your workout schedule will help you improve flexibility, reduce tightness and, ultimately, make your workouts more efficient and safe." To help you achieve your workout goals and help you relieve tension in your body, here are some tips for five different types of stretches and how to do them.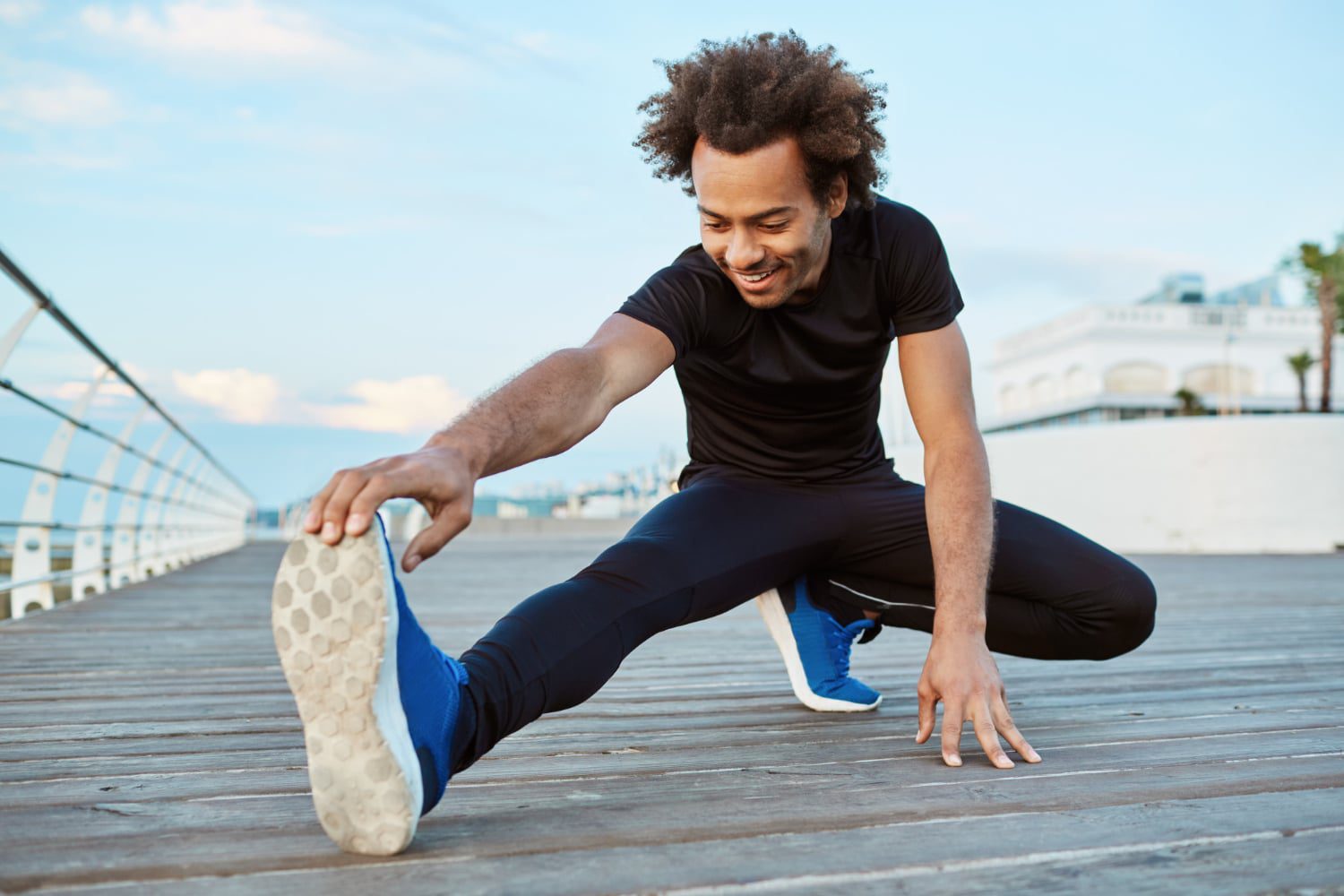 Top 5 Stretches 
1. Hamstring Stretch
Background:
The hamstring stretch is considered a static stretch, one of the best types of stretches to do after a workout. Static stretches help release tension and relax the muscles after a workout.
How to perform this stretch:
The most common ways to perform this stretch are standing up or sitting down. For a standing hamstring stretch, stand up all the way, keep your feet parallel to your hips, bend your knees slightly and keep your arms by your sides. Breathe out slowly while bending at your hip, slowly lowering your head toward the floor. Afterward, wrap your arms around your legs and hold this stretch for a minute before releasing and rolling back up slowly.
The sitting hamstring stretch is a little different. For this stretch, grab a mat or sit on something comfortable like a rug. Sit down and extend one leg; remember to keep your back straight. Then, bend the other leg, resting your foot against your thigh. Reach toward your ankle, keeping your body straight. Hold this stretch for a minute and repeat for the other leg.
2. Piriformis Stretch
Background:
Experts say the piriformis stretch prevents medical issues such as sciatica since it helps release tension in the piriformis muscle. This muscle primarily causes hip rotation, and too much tension can be dangerous. 
How to perform this stretch:
To perform this stretch, grab a mat or find a comfortable area to sit and extend both legs in front of you. Afterward, cross the right leg over the other and place the right foot flat on the floor. Then place the right hand on the floor behind your body. Finally, place the left hand on the right quad, and press the right leg to the left, twisting your torso to the right in the process. 
3. Neck Roll
Background:
Neck rolls can be done at any time and provide relief for muscle tension built up in the shoulders or neck area. Whether before a workout or after a long workday, this stretch is sure to provide some much-needed relaxation. 
How to perform this stretch: 
To perform this stretch, stand up straight, keep your feet parallel to your hips and keep your arms by your sides. Next, drop your head down and rotate it clockwise for about seven seconds. Rest, then repeat. 
4. Lunge with a Spinal Twist
Some background: 
Lunges are dynamic stretches essential before workouts since they help reduce tension by stretching the muscles and joints. A lunge with a spinal twist is considered one of the best stretches because it helps reduce back pain and improve mobility. 
How to perform this stretch:
To perform this stretch, stand tall and keep your feet together. Take a large step forward with the right foot. Bend the right food and lunge, keeping the left leg behind your body and your feet flat on the ground. Then plant your left hand on the floor, twisting your body to the right while extending and reaching your left arm up. Hold this stretch for half a minute and repeat on the other side.
5. Behind the Back Chest Openers
Some background:
Behind the back chest openers are pretty simple but very beneficial. These back chest openers help release back and shoulder tension. It's an easy stretch that can be done at any time in a day.
How to perform this stretch:
Take a seat or stand. Move your arms behind your back, lock your fingers together and pull your shoulders back. Hold for a minute and release. 
One Last Thing
Stretches are an essential component of any workout, and these five stretches will make sure every area of your body is being put to work. Incorporating them into your routine will enhance the quality of the workout, reduce discomfort and relieve any lingering tension. Happy stretching!
Top Doctor Magazine
At TopDoctor Magazine, our mission is to foster connections within the health and wellness community, acting as a vital bridge between doctors and patients and facilitating collaborations between medical companies and healthcare professionals.
Our purpose extends to empowering our readers, providing them with the knowledge to make well-informed healthcare and lifestyle decisions.
We take pride in being the ultimate resource for interviews with health and wellness leaders, delivering trending medical news, and covering a wide range of healthy living topics.