Everyone looks forward to the holiday season as a time to relax and celebrate with family and friends. The weather, the time off of work, and the traditions all work together to make the holidays feel like the most special time of year. Whether we're thinking of Thanksgiving, Christmas, Hanukkah, or New Year's Eve, chances to gather together and celebrate are always something to look forward to.
But those chances to celebrate are also when many lose control of their diets. If we're committed to eating in ways that improve our health, the holidays are a time of extra precaution when it comes to food choices. And we're here to help! Read on to discover which holiday foods could hurt you the most – and what to eat instead. We're going to break our list down into beverages, sides, entrees, and desserts. By the end, you'll be prepared to navigate the entire holiday menu!
To Drink or Not to Drink?
When you think of the holiday season, what beverage do you think of first? If you answered eggnog, you're not alone! We drink 135 million pounds of it per year, so it's no surprise that many different recipes have sprung up. Traditional eggnog, however, contains a high sugar content, a high saturated fat content, and a high cholesterol content. To indulge and take care of yourself simultaneously, try substituting the heavy cream with milk alternatives like almond milk or skim milk.
Hot chocolate is another holiday beverage staple, which is why it might be a shock to hear that hot chocolate can contain as many as 330 calories and 45 grams of sugar. To avoid that excess sugar–which could contribute to weight gain, blood sugar issues, and an increased risk of heart disease–drink cinnamon tea instead of hot chocolate. Cinnamon can benefit your blood sugar, and the flavor will still put you in the holiday mood!
Sides
Of all the sides that come with a Thanksgiving or Christmas meal, mashed potatoes might be the simplest to make and easiest to recognize. However, this crowd-pleaser often calls for butter, sour cream, and heavy cream. All those calories and saturated fats mean white mashed potatoes can be a serious threat to your diet. Instead, try making mashed sweet potatoes. Sweet potatoes will provide the creamy consistency that we love about mashed potatoes without the extra heavy ingredients! If that wasn't reason enough, sweet potatoes also bring lots of vitamin C, calcium, potassium, and iron.
Next is the casserole! A necessary side at any holiday gathering, casseroles are easy to stick in the oven and easy to transport. What we need to watch out for here, though, is the sodium content. If you go with the standard green bean casserole, you could be getting 550 milligrams of sodium with each scoop. To avoid that, make a sweet potato casserole instead. This will bring the benefits of sweet potatoes that we discussed earlier, plus the easy cooking and serving of a casserole!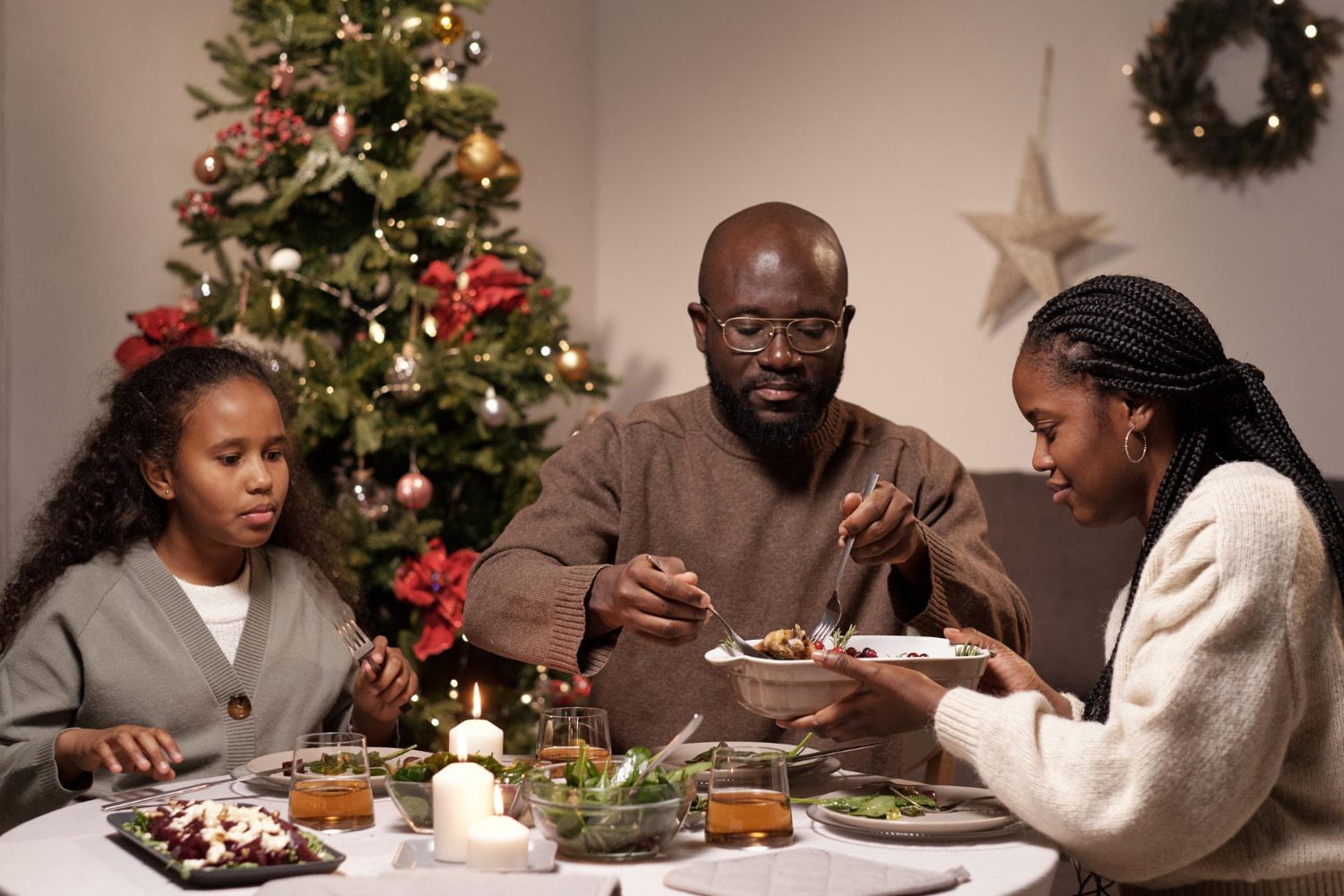 The Main Event
No Thanksgiving celebration would be complete without a turkey, and there's no shortage of different recipes you can follow. But how should you choose a recipe while trying to take care of your health? The biggest category to avoid is the deep-fried turkey, which adds a lot of unnecessary fat. The healthier (and safer) method is oven-roasting, which takes a little bit longer but will be worth it in the end. The calories you save–especially if you don't butter the turkey–will definitely make up for it.
If you and your loved ones will be following the tradition of holiday turkey, you should also know which part of the turkey is healthiest to eat. The easiest way to remember the answer is that white meat contains less fat and fewer calories than dark meat. While it may not look huge, the dark-meat heavy leg of the turkey contains about the amount of fat you're supposed to eat in an entire day (54 grams). Eating the white meat instead will save you 45 calories and 6 grams of saturated fat for every three ounces of turkey.
Dessert
No matter which holiday we're talking about, there will be plenty of pies on the table. But which are the healthiest? The clear winner is pumpkin pie, with its vitamin A and fiber. On average, a slice of pumpkin pie will come with 276 calories. Compare that to pecan pie, where just one slice contains 500 calories! Once we compare the calorie, fat, and sugar content of these two options, the choice is easy.
Speaking of pies, there's an excellent substitute for apple pie as well. While an apple pie will bring you an unnecessary amount of fat and sugar, baked apples will cut down on the fat and sugar while still providing a comforting, seasonal flavor. On top of that, baked apples are much easier to make!
A Parting Reminder
During the festive parties and meals of the holiday season, it might not be easy to make health-conscious decisions. But you can do it! With these food comparisons in mind, all it takes to get out of the holidays feeling great is a little willpower. With recipes like almond milk eggnog, cinnamon tea, sweet potato casserole, oven-roasted turkey, pumpkin pie, and baked apples, your holiday menu can be delicious and help you start the next year off right. Stay tuned to Top Doctor Magazine for more!