CEO Jim Hobart co-founded Sciton, Inc. over twenty years ago. The company's reputation for pushing the envelope in modern medicine with its innovative laser technology systems is well known to countless forward-thinking physicians, including the country's leading Ophthalmologists, Dermatologists, Gynecologists, Medi-Spas, and Cosmetic Surgeons. This success is a consequence of the Sciton company culture perfectly summed up in the following motto: "Because Results Matter." Still, he is adamant about not taking full credit for his Sciton's success: "We ALWAYS work as a team – this is not a one-man show."
In his interview with Top Doctor Magazine, Jim Hobart describes being at the literal bleeding edge of medical laser technology since he graduated from the University of Michigan with a Ph.D. in Physics in 1963. His obsession with constantly pushing medicine forward with laser-based technology has always been paired with delivering satisfying results to clinicians and patients. The company's groundbreaking laser-based technology and innovatively verifiable return on investment for clinics that use their systems have won Sciton, Inc. long-term business with the leading clinicians in the most competitive markets in the country.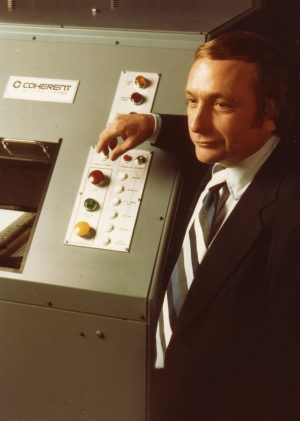 The Blue Ocean
Sciton is always looking for The Blue Ocean or the newest and latest opportunities in medicine that are ripe for breakthroughs for laser technology, quite a theme in Jim Hobart's life. During the late 1960s, Mr. Hobart took part in the earliest applications of Ruby Lasers with the Office of Naval Research. Shortly afterward, he would help develop the Ion Laser, which proved to be one of the first highly profitable laser ventures for his part in a previous organization, Coherent Radiation, Inc. That success prompted two Ophthalmology professors from Stanford to inquire if the Ion laser technology could treat eye diseases. In collaboration with others, the revolutionary minimally-invasive laser photocoagulation treatment was born thanks to this application, which according to Hobart, has saved tens of millions of people from blindness.
In the dermatology field, his team's inventions have even helped treat tragic burn victim Kim Phuc from the famous "Napalm Girl" photo, an unforgettable symbol of the horrors of the Vietnam War. Her still-painful scar tissue was treated at Miami Dermatology and Laser Institute with technology developed by Hobart's team at Sciton.
Hobart's collaboration with visionaries from the field of gynecology helped breakthrough treatment in vulvar lichen sclerosus, an itchy and painful issue for women that completely devastates vaginal health and intimate relationships. The doctors that approach Sciton for new solutions range from dermatologists, sports medicine experts, or in one case, even the spouse of a doctor that was an aerospace engineer with some ideas for laser application. "We have close relationships with a number of doctors, and in many cases, have discussions with them weekly. We'll talk to anyone looking for new devices or with conditions that we could treat."
Growth During a Pandemic and BroadBand Light (BBL)
Surprisingly, the pandemic has done nothing to slow down the rollout of Sciton's latest upgrades to its leading Intense pulsed light, the BBL system. On the contrary, the latest offerings have been in such demand that it's been one of the company's most profitable years ever. Hobart tells Top Doctor Magazine that BroadBand Light (BBL) is the world's most powerful IPL device on the market. He follows by saying that medispas were still very keen to invest in the latest iteration of BBL, BBL HERO (High Energy Rapid Output), despite the downturn in the economy clinics. Clinicians could treat sun damage, acne, pigmented lesions, rosacea, and countless other applications using the BBL's increased power, faster cooling rate, and higher speed. It functions like a high-powered swiss army knife for aesthetic clinicians. "Treatments that used to take over an hour on large areas like the back and legs can now be done in three to five minutes with even better results," Hobart boasts.
Dual Effect: Saving Clinicians Time and Money With Data Analytics based Return on Investment
Hobart recognizes that these laser systems are a significant investment for the working clinician. His BBL and BBL HERO systems were designed to be upgradeable so that practitioners could always stay ahead and profitable in highly competitive markets. Remarkably, 95% of all Sciton systems ever sold in the past decade remain in service today, thanks to its built-in-the-USA design and manufacturing quality.
The BBL system is part of a JOULE X all-in-one customizable platform. What excites many doctors using the platform is the treatment data (not patient data) tracking system, SCITON IQ, which is a more verifiable and honest assessment of what your contemporaries are doing, and how much money it's making. The SCITON IQ innovative intelligence is as legally transparent data as a savvy clinic could ask for real-time data trend reports from over 45 countries. The system can produce the number and type of treatments being used in a wide variety of data sets. This rare level of transparency has led to several clinicians buying multiple boxes, more than doubling their return on investment. "We can show you how much money you're making and put that money in your pocket." Critical real-time data, increased productivity, and profitability are the reasons why clinics around the country are investing in their future with a long-term relationship with Sciton.

Women's Health
Sciton also has an innovative laser option designed specifically for women's health called Diva. Diva uses ablative and non-ablative wavelengths, which are considered ideal for gynecological and urological medicine during excision, incision, ablation, vaporization, and soft tissue coagulation. Also a part of the JOULE platform, it is the only device that includes High Precision Automation (HPA) to ensure optimal outcomes for patients. It gives the device operator unseen levels of predictability. Many markets noticing these services are very on-trend in the aesthetic and medical application of lasers. Hobart even mentions that his lasers have the power to save marriages. How? Gynecological health issues like genital lichen sclerosus are usually mistreated until the issue becomes irreparably scarred due to medical and technological ignorance, but not when you're using Sciton's Diva. Uro-gynecologists have started looking to Hobart and his team's lasers as the only solution for this devastating disease.
What's Next? The Future of Lasers and Medicine
Ever the tinkerer, when asked if he has any game-changing technological projects underway, Hobart laughingly shared with Top Doctor Magazine, "Only about 17 of them…some of them are really far out. You gotta try a bunch of things." It's apparent that even if Sciton weren't at the forefront of medical laser technology, this type of technological problem solving would be his passion and hobby anyways. The spirit of innovation with results that matter defines the culture at Sciton. Even beyond that, Jim Hobart's collaborative spirit with his valued employees and the curious minds from the medical field have changed how modern medicine and aesthetic clinics treat the face and body forever.