Making Leaps and Bounds in Regenerative Medicine
Dr. Churchill is a Naturopathic doctor with over a decade of experience in Homeopathic, anti-aging, and regenerative medicine. He specializes in healing the whole body through holistic, natural treatments that address the root cause of illness and disease. In his clinic, The Churchill Center, in Fullerton, California, Dr. Churchill focuses on practicing the art of medicine – healing the body, mind, spirit, and soul.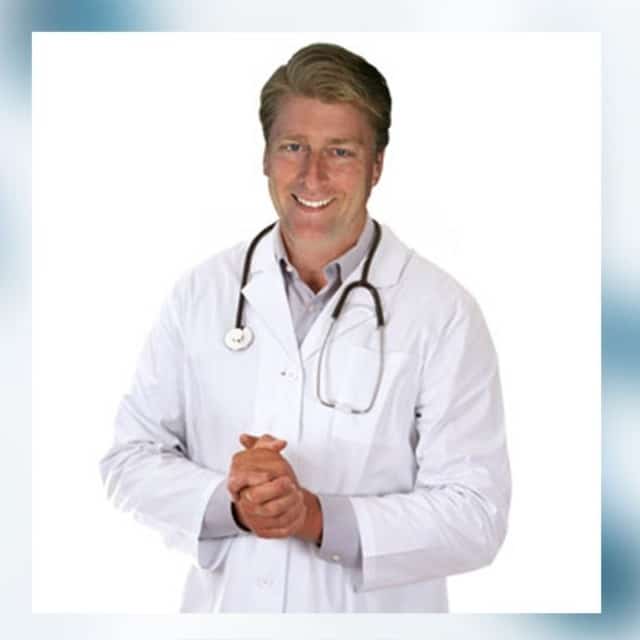 As a child and adult, Dr. Churchill suffered from high blood pressure and other illnesses related to or caused by hypertension. His parents, both Ivy League academics, were extremely proactive in the endeavor to find a cause for his illness – taking him to every expert they could find in New York where they lived. But no matter the doctor, the diagnosis and results remained the same. No one could figure out why he had hypertension and none of the traditional treatments or medications were working effectively. This led Churchill into a type of destructive lifestyle and depression which would plague him – and his illness – for the next fifteen years.
After graduating from Princeton High, Dr. Churchill went to culinary school in New York to obtain a degree in that field. He was trained in French cuisine and upon completion worked first in New York and then in New Jersey in his mother's restaurant. Finally, the hypertension and unhealthy lifestyle habits became too much. On the eve of his thirtieth birthday, Dr. Churchill made a self-evaluation that would begin to change his life. At a party with his friends, he was asked what he wanted in the future. His response – "I want something different." And after fifteen years of symptoms and side effects, he decided to actively pursue something different.
In the endeavor to find healing and answers for his high blood pressure, Dr. Churchill went first to Rutgers University. Already trained in the culinary arts, he sought to find further answers through a nutritional and physical point of view. Eventually, he graduated with a Bachelors of Science in Nutritional Biochemistry and Clinical Nutrition. But his search for answers did not stop there. Intrigued by topics such as traditional medicine and toxicology, he continued learning. While obtaining his Bachelor's degree, Dr. Churchill made a habit of reading through and memorizing the unabridged medical dictionary.
"I would read and memorize the [medical] dictionary with a gallon-sized coffee. If I didn't have the coffee to drink, I didn't care about what I was learning. But when I was drinking the coffee, I was able to fully focus and learn."
From Rutgers, Dr. Churchill went on to attend the National University of Natural Medicine (NUNM) to further his passion for treating the whole body while embracing natural treatments. And later, influenced by his time as a patient at the Princeton Bio Center, founded by Carl Pfeiffer MD Ph.D, a pioneer in orthomolecular medicine, Dr. Churchill also pursued advanced Aesthetic and Anti-Aging Curriculum with Roberta Foss Morgan DO and Thierry Hertoghe MD.
What is Homeopathic Medicine?
Created in the 1790s by the German physician Samuel Hahnemann, homeopathy is a form of alternative medicine. It is based on three theories:
"Like cures like" – This is the idea that a disease or illness can be cured by a substance that produces similar symptoms in healthy people. You can read more about this principle here.
"Law of minimum dose" – This notion is that the lower the dose of medication gives, the greater its effectiveness will be. You can read more about this principle here.
"A single remedy" – Many homeopathic practitioners prescribe one remedy at a time, an idea that stems from the desire to observe results that are uncluttered by the effects that could be produced by multiple remedies at a time. You can read more about this principle here.
Generally, Homeopathic products and treatments come from plants, minerals, and animals. These treatments are "individualized" or tailor-fit to each patient – so much so, that it is common for the same condition to be treated differently for different people.
What is Regenerative Medicine?
Regenerative medicine seeks to replace or restore damaged tissue and organs that may have been affected by disease, trauma, or congenital issues. It is different in its approach as it wants to promote regeneration instead of traditional medicine strategies which focuses primarily on treating the symptoms. Tools used in regenerative medicine include tissue engineering, cellular therapies, medical devices, and artificial organs. Combinations of these approaches can amplify our natural healing process in the places it is needed most, or take over the function of a permanently damaged organ.
While a relatively new field of expertise, regenerative medicine combines experts from professions such as biology, chemistry, computer science, engineering, genetics, medicine, and robotics to find solutions to the challenging medical problems facing mankind. It comes to the aid of our body's innate response to heal itself when confronted with injury or disease – harnessing the already established power of healing.
The Churchill Approach
At the Churchill Center, under Dr. Churchill's compassionate practice, patients receive premier care that does not merely treat their symptoms but seeks to improve their entire life by discovering the true cause of their illness or disease. The focus is on revitalizing the body, mind, spirit, and energy.
Using a 17 page lab report, Dr. Churchill is able to see and measure a patient's lipids, inflammatory markers, nitric oxide levels (ADMA and SDMA markers), and the myocardial structure stress functions. These markers and a patient's symptoms can then be plugged into a complex, intuitive software which will piece together a remedy or treatment plan that is specifically designed for that patient. The specific treatments and programs that the Churchill Center offers are:
New at the Churchill Center
Making great strides into the beneficial arena of Stem Cell treatments, the Churchill Center under Dr. Churchill's expert direction is now offering and excelling in PRP/Ozone Facials, joint regeneration, and Silver Nebulizer Treatments.
PRP/Ozone Facials – This evolutionary, non-invasive age defying procedure is able to reduce or eliminate wrinkles, lines, uneven pigment, blemishes, and scarring.
Joint Regeneration – With the regenerative nature of Stem Cells, it is possible to repair and restore damaged cells or other elements of the joints while also regenerating new cell growth.
Silver Nebulizer Treatment – This treatment is a natural alternative for respiratory diseases or conditions.
Citations:
Mao, A. S., & Mooney, D. J. (2015). Regenerative medicine: Current therapies and future directions. Proceedings of the National Academy of Sciences of the United States of America, 112(47), 14452–14459. https://doi.org/10.1073/pnas.1508520112
Top Doctor Magazine
At TopDoctor Magazine, our mission is to foster connections within the health and wellness community, acting as a vital bridge between doctors and patients and facilitating collaborations between medical companies and healthcare professionals.
Our purpose extends to empowering our readers, providing them with the knowledge to make well-informed healthcare and lifestyle decisions.
We take pride in being the ultimate resource for interviews with health and wellness leaders, delivering trending medical news, and covering a wide range of healthy living topics.