Dr. Bill Dorfman is a man of many talents, achievements, and passions whose early experiences and willingness to overcome obstacles has led him to create many projects with deep roots to his family and foundation. Driven by his belief that helping people achieve a great smile is vital in boosting their self-esteem and promoting a happy life, Dr. Dorfman has spent 40 years in the dental industry, creating some of the brightest smiles and happiest lives.
Relating his decision to become a dentist back to an unfortunate accident during his childhood, Dr. Dorfman explains that it was as if the "writing was on the wall." As a result of an accident at age 3, Dorfman lost his upper front baby teeth and required multiple surgeries to ensure the proper development of his adult teeth. During his many subsequent visits, his curiosity about the profession grew.
His dental career began in 1983 after graduating from the University of the Pacific Dugoni School of Dentistry in San Francisco as one of the youngest graduates ever to receive a doctorate degree. After completing a two-year residency program at a dental hospital in Lausanne, Switzerland, Dr. Dorfman moved back to the United States and began his own aesthetic and general dentistry practice in the Beverly Hills area.
At the age of 29, Dr. Dorfman had the opportunity to work with his first celebrity patient, Esther Williams, who was one of MGM's biggest silver-screen stars. Not only did this opportunity result in a lifelong friendship with Williams, but it also thrust Dr. Dorfman into the spotlight, which attracted other celebrity patients. In the following years, he worked with many celebrities, including Anthony Hopkins, Anne Hathaway, Hugh Jackman, Mark Walhberg, Kathy Bates, Eva Longoria, Katy Perry, Usher, and Paula Abdul — making him perhaps the only person who can say he has a professional relationship with Hannibal Lecter, Mia Thermopolis, and The Wolverine.
Because of his distinguished career in dentistry, Dr. Dorfman has also been a featured dentist on ABC's "Extreme Makeover" and the Emmy Winning CBS talk show "The Doctors," where he was a recurring guest co-host. Additionally, he is the author of The Smile Guide and the New York Times bestseller Billion Dollar Smile.
Dr. Dorfman also co-founded Discus Dental, Inc. through which dental products and equipment have been developed and distributed to over 100 countries. Some of these products include the ground-breaking Nite White, Day White, BreathRX, Brite Smile, and Zoom!
Dr. Dorfman helped grow Discus Dental from zero to over $1.3 billion dollars in sales. It became the largest global tooth whitening company before being sold to Philips in 2010.
But by far, his favorite passion project is founding and contributing to the LEAP Foundation (Leadership. Excellence. Accelerating Potential), a non-profit organization dedicated to building the next generation of leaders. Through LEAP, Dr. Dorfman helps bring together over 400 top student leaders from around the world to UCLA's campus for annual summer motivational programs. The LEAP Foundation, created to inspire and guide the next generation, is a week-long experience where attendees ages 15-25+ are exposed to interviews with celebrities and professionals who explain how they have built successful lives, careers, or companies.
When asked what led him to founding LEAP, Dr. Dorfman replied, "I'll go back to the beginning… There was this iconic insurance salesman from Hunt, Texas, whose nickname was Itsy Bitsy Walter Hailey. He was this little guy who was a powerhouse, and as it turned out, many of his clients were dentists.What he soon realized was that even though these guys were amazing dentists, they knew nothing about business or running a practice. It was a completely different skill set, one that was not taught in schools back then, so he started a program called Dental Boot Kamp where he and his partner, Steve Anderson taught dental teams how to work as a team, how to be productive, and how to be profitable.
[As a result of the program's success], some of the people that went to Dental Boot Kamp said, 'you know, I wish there were something like this for my high school or college kids to go to and learn these skills'.
So, Walter and Steve created a program and asked different people to come as mentors."
Asked to be a mentor himself, Dr. Dorfman attended the program to talk about his dental career and experiences on ABC's "Extreme Makeover" and being a New York Times Bestselling author. Touched by how impactful the program was for the students, he returned for numerous years before taking it over upon Walter's passing. It was then renamed LEAP and remade into a non-profit organization.
"[LEAP] has nothing to do with dentistry. It's about life skills and teaching things like public speaking, networking, study habits, and how to apply for a job. It's very comprehensive, and kids who go through the program will tell you that LEAP changed their lives. It's really profound and one of the things that is so near and dear to my heart."
Throughout his life, Dr. Dorfman has exemplified the key principles taught at LEAP's annual summer program. This establishes the importance of — and proven success behind — these principles and makes them extremely personal. Going back to his beginnings when he was nearing graduation from the University of the Pacific in San Francisco, Dorfman said that he began to assess his life and the next steps to be taken into a dental career. "Basically, I was in dental school about to graduate, and I'm 24 years old. I [started to think], you know, I've never traveled. I've never been anywhere or done anything except school. The idea of opening a practice and being tethered to it until I retire without ever really seeing the world scared me," he admitted. That was until he heard about a clinic in Switzerland that accepted those with American licenses. It seemed like the perfect opportunity to practice dentistry while also traveling. The only problem was that the clinic only had one position open and somewhere near 400 applicants. Knowing that his chances of getting into the Switzerland program were slim, Dr. Dorfman began an initiative that would later become one of the founding principles taught at the LEAP Foundation.
For more information about LEAP please go to www.leapfoundation.com
Willingness of Success
"One of the things we teach at LEAP is that successful people are willing to do the things unsuccessful people are not willing to do," said Dr. Dorfman, "So, I started sending letters of recommendation from every professor in my dental school that I was friends with, and the letters were stellar! Do you know how I know? I wrote them all!"
One of the important pieces of advice he passes on to the students who attend LEAP is that asking a professor to write a letter of recommendation can take up a lot of time in their already busy schedules. An alternative request is to offer to write the letter themselves and have the professor personalize it, which Dorfman's professors chose to do. On top of sending letters of recommendation, he started to call the Director of the Switzerland program every week. "Now that doesn't sound like such a big thing, but back then, in 1983, making long-distance phone calls was not as easy as it is today and VERY expensive," said Dorfman. Regardless, he would send in another resume at the start of each week and call to follow up, make sure it was received, and talk with the Director. Then, one day, his persistence paid off, and something different happened.
"I tell my students that you will have life-defining moments, and sometimes you plan them, and sometimes you don't. This one was spontaneous. I don't even know where it came from, I was on the phone with [the Director], and I really felt that he wasn't interested at all,
so I said 'can I take you to lunch?'"
Despite the reality of being in San Francisco and having no money to travel to Switzerland, he promised the Director that he would be there. The week after graduation, having borrowed the money, he traveled to Switzerland with the hope of being hired. "It worked!" Dorfman told Top Doctor Magazine, "Apparently, I was the only one out of 400 applicants that did what I did, and he hired me. It changed the trajectory of my life; I learned how to ski, I made amazing friends, I became fluent in French, and above all, it was an amazing experience."
Copy Genius And Build Relationships
When he returned to LA from his time working in Switzerland, Dr. Dorfman recognized that the area already had many established cosmetic dentists. To build his own practice, he would need to set himself apart.
As a result, he embarked on another initiative that would later become the second valuable lesson he teaches to the students who attend LEAP.
"I called five of the most successful dentists that I could find and asked if I could shadow them even though shadowing wasn't even a thing back then. They each said the same thing to me… 'You're not like other students".
While most students would sit and watch the dentist drill on teeth, Dr. Dorfman would come into the clinic early and follow the entire process. From observing patient behavior entering the practice to how they engaged with forms, listening to the receptionists at the desk, following along with the doctor as he designed a treatment plan, and taking note of office managers, Dorfman learned what he wanted to implement in his own clinic.
"I took everything I learned from those five offices and put it into my office," said Dorfman, "On top of that, I have my secret weapon, Sue Hartzler."
Upon opening his dental office, Dr. Dorfman sent out announcements to everyone in his life at the time. Following up on one of the announcements inviting her to be a patient, Sue Hartzler, a former high school classmate, came into the office one day. In their conversation, Dr. Dorfman learned that she was working as a publicist – getting PR for her clients and helping them grow their businesses. He hired her, and within a couple of months, she had him listed in the Los Angeles Magazine as The Best Dentist in L.A.
"It was one of the greatest breaks [for me]," said Dorfman, "The second biggest break was meeting my future business partner and life-long best friend, Robert Hayman, at a charity event and creating Discus Dental with him."
Through LEAP, Dr. Dorfman has communicated the importance of fostering successful business, mentoring relationships and the art of connecting in the entrepreneurial atmosphere. For example, the summer event for the program culminates on Friday with what is called the Mentor Workshop. At the Workshop, students get a chance to sit at a table with a mentor — people like doctors, lawyers, firefighters, artists, screenwriters, actors/actresses — and ask questions about their career and profession. Some of the past speakers at LEAP include Anthony Hopkins, Mark Wahlberg, Paula Abdul, Eva Longoria, Kathy Bates, Usher, Michael Strahan, Apolo Ohno, Hannah Brown, Bibop Gresta (the founder of Hyperloop), and many others.
Give Back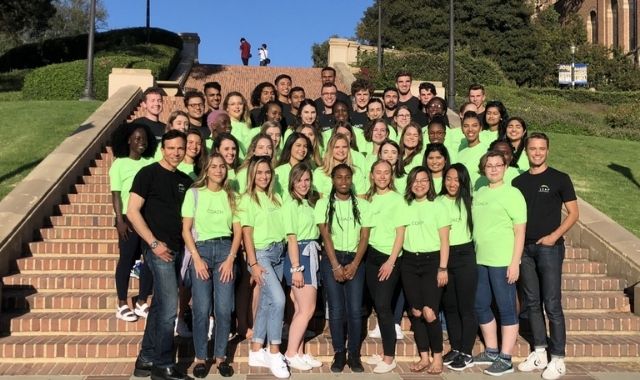 Believing strongly in the philosophy of "paying it forward," Dr. Dorfman lives his life under the belief that no one should go through this world without making it better. When an individual's career has taken off, that person should give back to the community — a principle he has demonstrated many times over. Dr. Dorfman's words of encouragement and advice for the next generation of dentists is that they should help people no matter the difference that help might make. The one thing that Dr. Dorfman hopes people understand from looking at his life is that he is leaving a legacy of giving back because doing so brings him feelings of joy and gratitude.
When asked what he is most proud of, Dr. Dorfman replied, "I would say personally my 3 daughters. Professionally, the fact that together with Discus Dental, The Crown Council, and Country Singer Garth Brooks, we have raised over $44 Million for children's charities through the Smiles For Life Initiative; and finally LEAP. It's a program that teaches things that [students] don't learn in school. One of which is appreciation. We give them a pad called I Appreciate Notes, and they fill it in with things that they appreciate. Before the pandemic, out of 400 students, I would get 400 I Appreciate Notes. These notes would say things like "I really appreciate you and the team because LEAP changed my life.' And I know that it did. It is definitely a life-changing experience, and 99% of the students say that. The reason why I say only 99% is because the 1% say 'LEAP saved my life'… LEAP isn't a one and done. We encourage the students to stay active and join mastermind groups and continue listening to our podcasts. It's a really beautiful family."
When he isn't working at Century City Aesthetic Dentistry, Dr. Dorfman spends his time working with LEAP, staying active with his strict fitness regime, skiing, and developing new products for the dental industry. He shared with Top Doctor Magazine that two new products will be launching in 2021. "I cannot tell you [specifics] about them; they are secrets! But one is what we're going to call a category killer in take-home tooth whitening and the second is a really fun product that I've been working on for years that's finally coming to fruition," said Dorfman. Additionally, it can be expected that Dr. Dorfman will be returning to television networks as he is in talks with a TV talk show host about doing a recurring segment. If anyone would like to reach out to him, Dr. Dorfman is available on his Instagram page @drbilldorfman and responds to 100% of his direct messages.
In closing, Dr. Dorfman left us with his life mantra: "When life gives you an opportunity, don't take it… master it."