And no, we aren't talking about COVID here as terrible as that disease is… today we're interviewing Dr. Kathleen Benson who is an interventional cardiologist on her insights into the COVID-19 pandemic she's battling now in addition to the age-old heart disease pandemic we've been battling since the dawn of time. Did you know that 655,000 Americans die every year from heart disease? That's more every year than we've lost to COVID so far and heart disease doesn't make the headlines. This is not meant to downplay the severity of COVID-19 but merely to bring attention to the ongoing battles that our doctors face every day from heart disease and so many other ailments not to mention the new pandemic.
In this new and uncertain world, the medical field has done its utmost best to keep us healthy, happy, and safe to different degrees. Many physicians saw the hardships of the COVID-19 frontline, putting themselves and their families at risk to comfort patients in their hour of need. Others tried to attack the virus at its source by researching ways to eliminate it once and for all.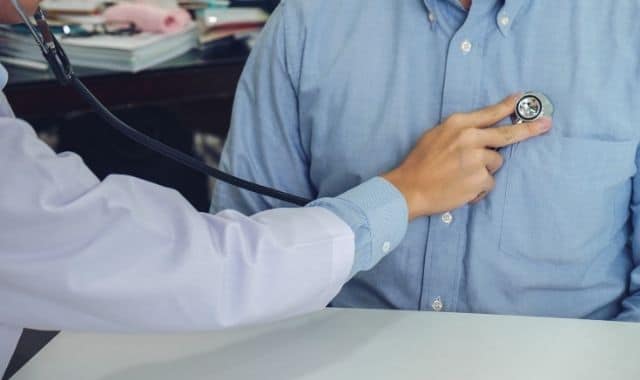 Still other physicians, like Dr. Kathleen Benson, an interventional cardiologist with the Advanced Heart & Vascular Specialists based in Las Vegas, thinks that people require more than just hospital treatment or a vaccine to keep their guard up in this battle: "I think that's going to be one of our biggest concerns right now, as the pandemic rolls on: making sure that everybody is okay emotionally, because that does translate into physical health, and it affects all of us as well." Her concern here is well-founded as stress-levels (one of the leading causes in heart disease) have been at an all-time high among the vast majority of Americans this past year.
Practicing a simple life, giving thanks for everything around you, and taking things one day at a time – this is Dr. Benson's recipe for maintaining our hope and confidence during the COVID-19 pandemic. Her optimistic view of the world and dedication saw her patients (many with severe cardiac issues) emerge victorious out of the worst of the pandemic.
However, her role in the COVID-19 pandemic was not limited to taking her patients' best care. She went on to make sure that future generations of cardiologists learn from her example and, first, become better humans themselves. Let's tune in to Dr. Benson and know more about her own journey as an interventional cardiologist, taking care of patients during a pandemic, and learning how to live each day at a time!
Becoming an Interventional Cardiologist
From an early age, Dr. Benson knew that becoming a specialist would allow her to help more patients. However, her paths with interventional cardiology weren't always intertwined: "I did practice internal medicine for five years, but I wanted to do more for my patients, so I found that becoming a specialist allowed me to do that." After an early career spell in general internal medicine, she decided to switch towards cardiology and went through the General Cardiology and Interventional Cardiology fellowships. "It was one of the best things that I had ever done," she tells us.
However, Dr. Benson never forgot her internal medicine roots; on the contrary, she credits them as one of the main reasons she is such an accomplished practitioner today. "It sort of gives me a different perspective, and it was immensely more satisfying and intellectually stimulating." Because of this complementary experience, she manages to employ a more holistic approach to the patient's medical needs, allowing her to provide better care as a whole: "I find that I am able to, sort of, incorporate the whole patients into my clinical-decision making as well, so, just because of the training in the Internal Medicine, which all Interventional Cardiologists do, but I practiced for five years as well."
COVID-19 and Interventional Cardiology
Akin to a vast majority of physicians, the beginning of the COVID-19 pandemic challenged Dr. Benson's practice immensely: "I think it's been a challenge for all health care providers, outpatient and in-patient alike. I think, initially, we didn't know how to navigate as well as we do now. Over the year, we've managed to put policies in procedures, it's becoming commonplace. Initially, it was very hard, but it took about two or three months, and then we're sort of ramping up to speed."
The good news is, "that initial scare has lessened for a handful of patients," she tells us. With the social distancing, mandatory masks, and CDC guidelines, many patients learned how to collaborate with physicians and staff members and overcame their fears: "Patients are feeling more comfortable making sure that they're taking care of their health."
Patient care during the COVID-19 pandemic
When asked about how she dealt with patient care during the pandemic's first months, Dr. Benson admits that it wasn't a walk in the park. Since her field deals with cardiac issues, patients were more reluctant to expose themselves to the virus. Furthermore, the anxiety and depression following prolonged homestay have exacerbated several of her patients' symptoms, such as increased blood pressure.
While she admits that working in these conditions can be challenging, Dr. Benson found the proper method for her patients. Using telehealth, she managed to keep a closer eye on her stable patients, checking their blood pressure and cholesterol levels. However, she says that this method's area of effect is limited to stable patients only. When asked about the platform that she uses, she pointed to the doxy.me, a text-messaging platform.
What Makes Dr. Benson Excited about Interventional Cardiology?
All the difficulties brought by the COVID-19 pandemic aside, Dr. Benson's excitement to return to the office every day is sky-high. The immediate gratification from helping a patient and the intellectual stimulation are the two rewards she could never let go of: "For cardiologists, it's an immediate gratification, clogged arteries that become open, chest pain resolve, and the patient turns the corner, for the most part. We go into medicine for lots of different reasons, then we go into cardiology for even more reasons than that. I think that saving a life is extremely gratifying. No matter how many procedures you do, it's amazing, and I also think that the intellectual stimulation that comes with that and every case, no matter how bread-and-butter, is always different." Aside from the immediate gratification and the intellectual stimulation, Dr. Benson finds immense joy in dealing with every patient as a unique case. "Every patient is always different, so there's always something that you could learn from each and every case." Every single evening, she leaves the office happier, better trained, and curious about how the next day will unfold.
Debunking Medical Myths
Even though she finds immense joy in practicing interventional cardiology, Dr. Benson tells us how hard hitting bumps in the road, especially in the form of medical myths, can be. She cites the example of one of her young female patients whose previous physician hesitated to attribute her symptoms to cardiac disease because it rarely happens in young patients. Once the young girl arrived at Dr. Benson's office, she recognized the coronary artery thrombosis symptoms and had her hospitalized right away.
This example taught Dr. Benson how hurtful medical myths can become. "It sort of highlighted the fact that they have to be careful and mindful and not sort of dismiss any symptoms in our younger patients, particularly in younger females and females in general." For that reason, she is determined to help debunk this medical myth and help female patients receive the treatment they need. "So, I think that reinforced my commitment to women and heart disease and making sure that these patients are seen and heard and taken seriously."
Preparing Future Generations of Physicians
To make sure that her views and experience will change physicians' future generations and their mindset, Dr. Benson joined the UNLV School of Medicine as a teacher. Now, she has the opportunity to work with students since day 1 and model them towards better selves, better practice, and a better world.
When the COVID-19 pandemic first struck the world, learning was accomplished more and more in the online world. For Dr. Benson and her generation, becoming quickly tech-savvy didn't come as naturally. Still, with IT experts and state-of-the-art technology, she managed to transition to online teaching seamlessly.
She remembers the days when online learning was a futuristic thought: "From my perspective when I was in medical school, I don't think there was anything called online learning at all other than programs that you had on a floppy disk that you entered into a computer." Nowadays, although the advances in technology and the access to information have sharply increased, Dr. Benson believes that some aspects of teaching cannot be conveyed online: "Having everything computer-based, I think that's a great supplement, but, in my opinion, it doesn't fully replace in-person experience. I think we're also seeing that with the trainee generation, where some of them are lamenting not having the in-person experience." Her honest hope is that, once the pandemic is over, we as a society will find an appropriate way to harness the benefits of both in-person and online learning together.
The COVID-19 Vaccine and Our Peace of Mind
As the end of 2020 was nearing, the month of December brought the best gift we could ask for: both the Pfizer and Moderna vaccines received their FDA authorization. For a festive spirit as Dr. Benson's, this news came as a blessing. "I think the biggest concern is making sure that everyone gets vaccinated and that there's not going to be a new variant that requires a new vaccine." While she doubts vaccinating pregnant women, she firmly believes that there is no reason for us to refuse the vaccine. Furthermore, her hope is that the new White House administration will learn from past mistakes and lead the concerted effort towards neutralizing the COVID-19 virus.
As the vaccine takes care of the physical side of the issue, Dr. Benson believes that staying confident in this uncertain world will help us get through the pandemic together. While being fully aware that this is not an easy process, she wants us to take things one at a time: "I was reading an article about how they got through the Great Depression and WW2 and, you know, many persons did exactly the same thing: one day at a time, one foot in front of the other and just keep moving." Practicing gratitude, saying 'thank you' as often as possible, laughing, respecting one another – the little things in life will help us emerge victorious from this battle. "I think that's going to be one of our biggest concerns right now, as the pandemic rolls on, is making sure that everybody emotionally is okay, because that does translate into physical health, and it affects all of us as well," she tells us while recommending yoga and meditation to her patients as a way to keep their minds afloat.
What's Next for Dr. Benson?
A challenging career, numerous patients, peace of mind – these are the things that best describe 'the present Dr. Benson.' What about 'future Dr. Benson?' "I don't know, getting through the COVID pandemic," she tells us, laughing. Although the future is shrouded in mystery, her biggest hope is to have enough time and energy to keep doing the things she loves: support her patients, develop professionally, and spread her knowledge on the cardiac disease to students, fellows, and residents alike.
Knowing her fierce dedication and relentless optimism, we can only be sure that Dr. Benson is one of the modern times' capeless heroes, fighting to keep people happy and healthy while teaching future generations to do the same!
Top Doctor Magazine
At TopDoctor Magazine, our mission is to foster connections within the health and wellness community, acting as a vital bridge between doctors and patients and facilitating collaborations between medical companies and healthcare professionals.
Our purpose extends to empowering our readers, providing them with the knowledge to make well-informed healthcare and lifestyle decisions.
We take pride in being the ultimate resource for interviews with health and wellness leaders, delivering trending medical news, and covering a wide range of healthy living topics.