The medical profession is a continuous progression of new medicines, techniques and knowledge developed through theory and applied research. The combination of science and business promotes the restoration of good health. 
Dr. Daniel J. Gould, MD, Ph.D., employs his dual degrees to embrace both theory and application. He has played key roles in businesses where he contributes to his patients' well-being and the advancement of science.
Dr. Gould is a plastic and reconstructive surgeon at Dr. Gould Plastic Surgery in Beverly Hills, California. His research has produced hundreds of peer-reviewed articles and presentations on cosmetic and reconstructive surgery. Dr. Gould is also involved in other health and wellness-related businesses.
"It allows me to contribute on a deeper level and change the way I approach each patient, my practice and my contributions back to science," Dr. Gould said.
Starting a Career
Dr. Gould followed in his physician father's footsteps while pursuing his affinity towards research. Mentors pushed him toward an MD Ph.D. program and encouraged his developing love for reconstruction and plastic surgery.
"I became more focused on bioengineering and tissue engineering. That was a great overlap for reconstructive surgery. Now, I like taking care of patients, researching and putting those two things together to improve outcomes," Dr. Gould said.
Practice: Restoring Patients' Well-Being
Dr. Gould's practice involves anti-aging procedures for the face, breast and abdomen, including the state-of-the-art deep plane facelift and drainless tummy tuck.
"There's an overlap between science and surgery with facial aging," Dr. Gould said. "It's challenging—the technical skill, perioperative management, understanding aging and what patients need and want. My practice is all about allowing the patient to recognize who they see in the mirror. We're here to make you look better, not different."
For Dr. Gould, success means the patient looks natural, not like they've had work done. He is essentially returning things to their natural state.
"I'm putting your anatomy back where it belongs. I don't want people thinking, I want to be a 10. I don't create strange, unnatural beauty," Dr. Gould explained.
Patient Cases
His goal of resetting natural balance produces happy patients. He gave an example of a woman who, after having babies, developed weakness in her abdominal core muscles.
"She had urinary incontinence and sexual dysfunction. With one surgery, I can put her muscles back together. I can give her body back," Dr. Gould said.
Other patients come in for breast augmentations, not to enlarge their breasts but to correct an imbalance. 
"My ideal breast augmentation is when you look at the patient and have no idea they had surgery. They're not going beyond natural anatomy," Dr. Gould added.
Dr. Gould does not perform or promise miracles. Instead, he helps patients understand that procedures are consistent with the patient's health, skin condition and natural body type, not what they see on television or social media.
"The deep plane facelift, for example, is all about releasing tension and putting the structures back where they belong. I don't see myself as a special cultivator of beauty. I see myself as an anatomist or a scientist," Dr. Gould said.
Research: Contributing to Science
"My residency and Ph.D. were focused on researching ways to further the science of plastic surgery. As a result, I've written about 120 peer-reviewed publications, and I've given about 600 talks at big meetings," Dr. Gould said.
 He is currently an editor for the Aesthetic Surgery Journal and has also helped launch a new open-access journal, publishing several articles in each. 
"The new journal is more focused on consumers and giving transparent information about plastic surgery. My goal is to ultimately be a high-level editor or maybe editor-in-chief for one of those journals," he said.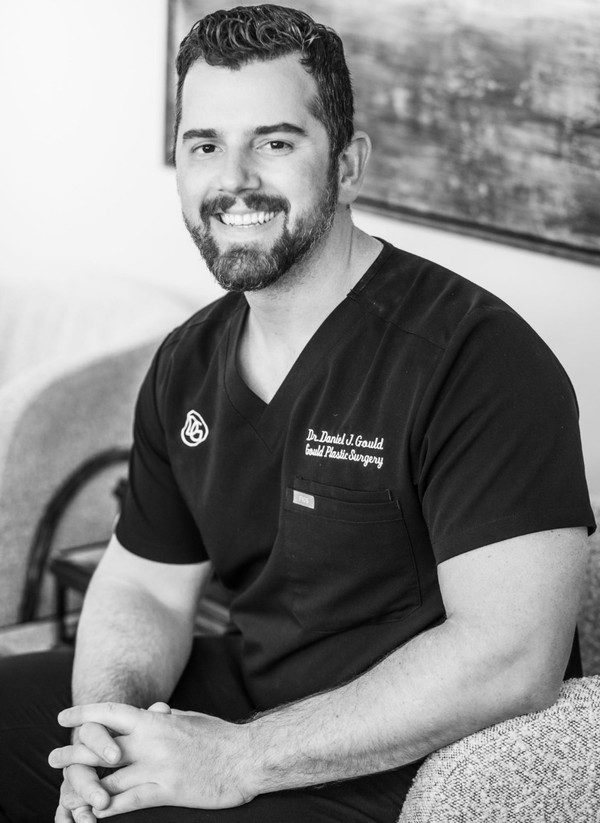 Business: Multiple Paths to Promoting Wellness
Managing a Business and Creating a Niche
To practice medicine and conduct research successfully, a doctor must also manage the business side. 
"I've learned how to manage a practice, open an office, grow, develop marketing and leads and create a brand. I think one of the biggest mistakes doctors make is failing to establish a niche," Dr. Gould said.
Doctors often see themselves as jacks of all trades, but they cannot do everything. Instead, they should focus on two or three things they do well and become known for that. 
"In a market largely based on referrals from other providers, other doctors won't send you referrals if you overlap with what they do. You're a competitor. You're a better referral source as an expert in a niche," Dr. Gould explained.
Partnerships
A doctor with an established niche can form partnerships with doctors with other expertise, thus building the community of medicine.
"By building those partnerships, relying on your medical and surgical colleagues and developing referral streams, you can grow. But you need to network in order to know who to send people to," Dr. Gould said. 
As a community, the more interlinked doctors are, the more supportive they are of one another, and the better their patients' outcomes will be.
YouTube
On his YouTube channel, Dr Gould Plastic Surgery, he discusses such topics as procedures, patient expectations and aftercare.  
"YouTube Health reached out to me to become a part of a vetted medical knowledge base. As a result, I'm creating knowledge about cosmetic procedures focused around outcomes," Dr. Gould said. 
Love My Delta, Milk + Honey Spas
Love My Delta, a cloud-based software platform, offers analytical tools for people working in beauty, wellness and aesthetic medicine. 
"I've created a company called Love My Delta with a few friends and partners. We're using crowdsourcing to identify outcomes in aesthetic surgery and aesthetic beauty," Dr. Gould added.
Dr. Gould is also the medical service operator for Milk + Honey spas. This business features medical aesthetics along with traditional high-quality spa services and products.
"We're hoping to become an industry leader in aesthetic beauty and expand our locations," Dr. Gould said. 
A Parting Reminder
Dr. Gould has created a successful practice by identifying his niche within the plastic surgery field, advancing the science through research and publications and getting involved in other businesses that serve aesthetic patients. 
"You have to have your hand in a few different things to push your practice," Dr. Gould said. 
The real bottom line, though, is the patients.
"The one thing that motivates me is the best results for the patients," Dr. Gould explained. 
Between the care a doctor provides and referrals for other needed services, patients get the best information and treatment.
"That's the whole goal—the best care always," Dr. Gould concluded.