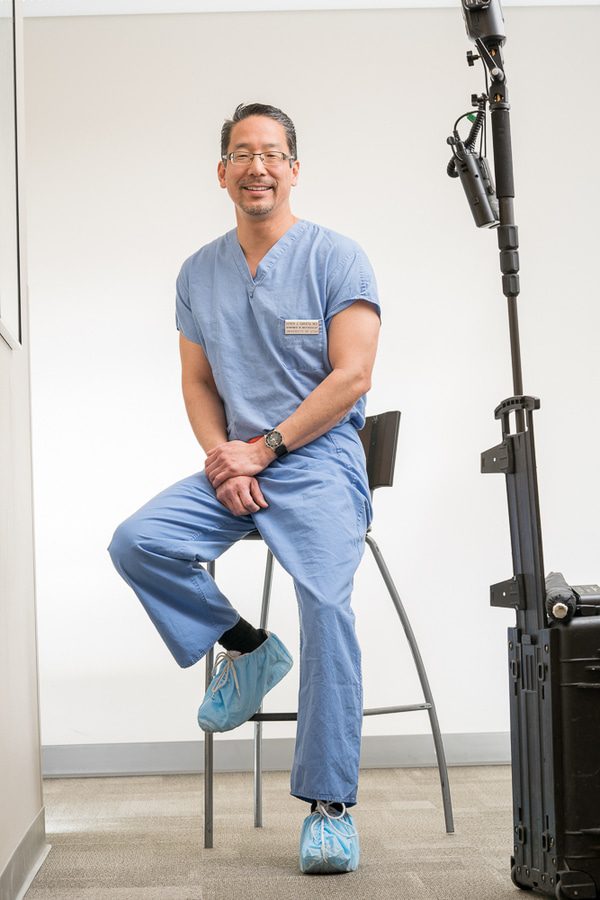 If you have the rare privilege of mastering two disciplines, you are in a unique position to use one field to benefit the other. With a capable, creative team, Dr. Derek J. Sakata, M.D., made use of his dual knowledge bases to develop medical devices that improve patient care.
Dr. Sakata is the Vice-Chair of Ambulatory Surgery and Perioperative Innovation in the Department of Anesthesiology at the University of Utah Health. He is responsible for more than 25 specialties, to include an emergency department and three primary care clinics. He wasn't always in the medical field though. "I studied engineering and wanted to build guidance systems. But the Cold War had just ended, and there were no more jobs," he said.
 So he switched gears and, with a nagging uncertainty, turned to medicine. 
"I was fascinated by the medical sciences but still wasn't sure I wanted to practice medicine. But I liked the science of anesthesiology," Dr. Sakata shared.
What finally resolved that uncertainty was combining his engineering and medical expertise to find new ways to improve medical practices in anesthesiology.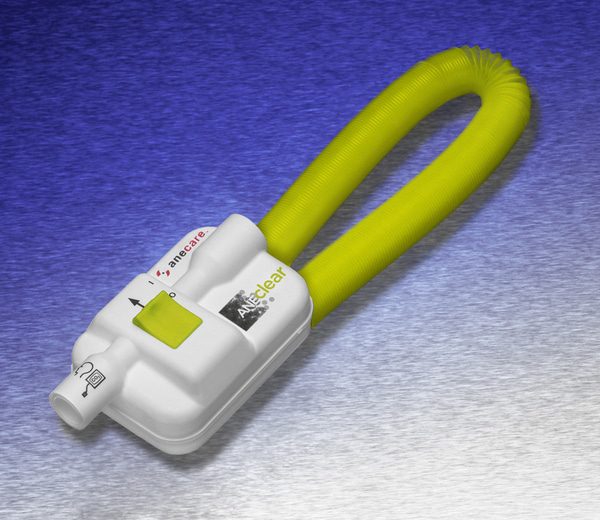 Vapor-Clean
Based on the ANEclear, Vapor-Clean is designed to help patients with malignant hyperthermia, a disease which can be triggered by inhaled anesthetics. It affects the body to the point where it starts breaking your cells down.
Anesthesia machines release anesthetic vapor after vapor is used in them. To make them safe, they have to be flushed with a fresh gas flow for quite a while. The Vapor-Clean performs this function in less than 90 seconds. 
"We know from the literature that you have to get the anesthetic level to below five parts per million. There has to be nothing in a circuit. So we decided to build filters," Dr.  Sakata said. 
Sales of this device are growing and benefiting patients around the world. Nearly 2,000 facilities in about 20 countries now benefit from this excellent device. 
VitalsBridge
"The VitalsBridge provides simulations of patient issues so that we can train better clinicians and healthcare providers," Dr. Sakata explained.
The VitalsBridge's realistically simulated vital signs for manikins and standardized patients are produced and updated on a commercially available patient monitor. Trainees learn to interpret vital signs on the same monitors used in actual practice. It displays nine types of data, including oxygen saturation, blood pressure and carbon dioxide. An app controls the simulation.
"Usually, you have to go to an expensive simulator center to do these things. It can cost about $80,000. So the team came up with this little box that basically can take anybody and hook them up to any monitor and simulate changes in the monitor, like having a heart attack or other scenarios for health providers to react to. And it's much less expensive," Dr. Sakata said.
The Next Device
Another device in development is an oxygen delivery device. Dr. Sakata said that he regretted not having it out before COVID-19 hit. It could have made a huge difference in the treatment of COVID patients since the device was better than a standard nasal cannula and monitors patients better than most other devices. 
This product has exciting implications for the future. 
"It could change the face of anything from how well we sedate patients to possibly home care in the future. Maybe not all patients have to be in a hospital. As hospital beds become more scarce because of the pandemic, this would have been an exciting device to have," Dr. Sakata explained.
Conclusion
Dr. Sakata has found a productive and beneficial way to alleviate his uncertainties upon entering the medical field. He applies his engineering expertise to build new, better ways to practice medicine. The devices he and his partners create save time and money, bring doctors closer to their patients, and help achieve better outcomes.
Looking toward the future, Dr. Sakata sees improvements and more focus on medical prevention, teamwork among medical staff and patient education. 
"We need to understand who our audience is and who we are communicating with," Dr. Sakata concluded.
Dr. Sakata took a career shift necessitated by a crumbling job market and turned it into a career dedicated to creating new, innovative ways to serve patients better.