TOP DOCTOR MAGAZINE Award Nomination Information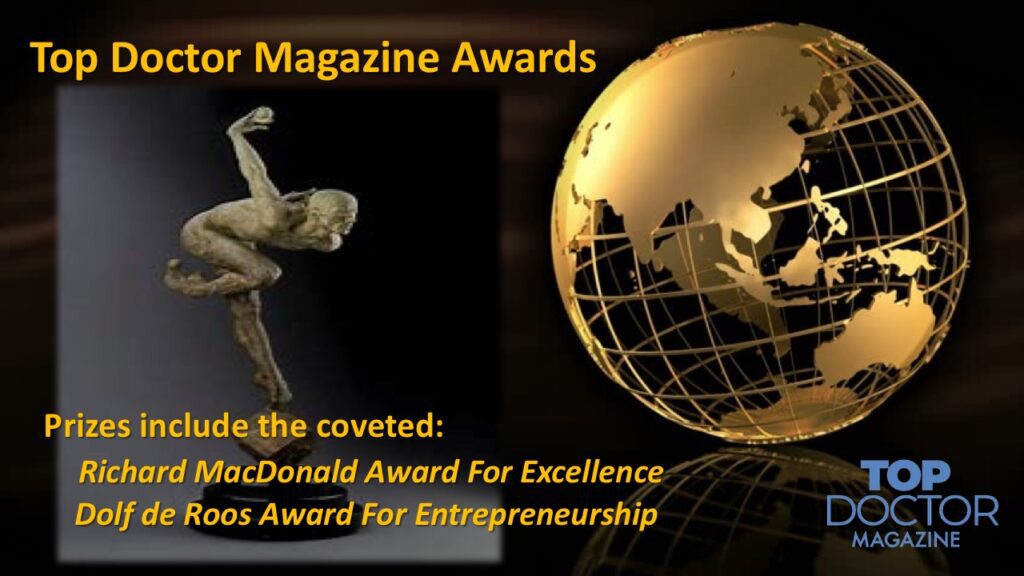 Top Doctor Magazine has two main categories for Top Doctor award nominations:
1. Geographic area of the doctor's practice, (e.g. Tampa, Phoenix etc.). A Doctor may be nominated as Tampa Top Doctor of the Year, for example.
2. Specific area of medical practice (e.g., Dentistry, Infectious Disease, Orthopedics, Family Practice, Gastroenterology, General Practice, etc.). As an example, a doctor may be nominated as Family Practice Top Doctor of the Year. A doctor may also be nominated in multiple categories. This is solely at the discretion of Top Doctor Magazine.
3. Nominations must be submitted by someone other than the nominee. This can be another doctor, a patient or by a representative of Top Doctor Magazine.
4. A nominee must be contributing to their profession and/or patients, e.g., implementing cutting edge technology, many years of service, volunteer or community service, etc. Entrepreneurial activities can also qualify. These can be in the medical industry, a specific field, or other industries. For example, you may have been working in specific areas of research, or have diversified into non-medical businesses, restaurants, or property development, etc.
5. A nominee must have positive testimonials from patients and must be willing to spend approximately 30 to 45 minutes for an initial interview to confirm their qualifications. If you are selected and qualify to be interviewed,
you must be willing to commit your time to the judging process, as well as supply photos, videos or other information as deemed relevant.
Once the economy opens back up again, Top Doctor Magazine will be holding special live events in various areas of the United States, to celebrate award recipients.
These live, multi-day events will usually consist of:
A charity golf event on the first day to raise funds for Veterans (donation fee of $297) with the opportunity to win a cash award, car, and other prizes. These awardsmay vary from event to event. 
Events will include a networking party the first evening to welcome everyone and socialize.
The second day will consist of special educational training for doctors, followed by a gala dinner and award night, including photos and press.
Award recipients are encouraged to bring partners, family and friends and to book a table. A fee per person for the dinner is charged for all attendees.
The third day of a live event is a "late start", with further special education and presentations.
*A doctor may also nominate their own office manager for a special award.
Disclaimer: Nominations and selection of winners in all categories are solely at the discretion of Top Doctor Magazine who reserves the right at all times to decide who is nominated for an award and who receives an award. Selection of all nominees and all award winners are totally at the discretion of Top Doctor Magazine. All nominations and awards may be terminated or removed solely at the discretion of Top Doctor Magazine. Any doctor nominated, or that receives an award, accepts the clauses in this document as part of the conditions to be nominated.
For more information, please contact Brianna Connors, brianna@topdoctormagazine.com