A recent study has proven what we have always known and feared: eating unhealthy foods can have immediate adverse effects on the workforce. However, don't trash your favorite burger and throw out your drafthouse beer in despair just yet. The study answers the question, "Does a healthy lifestyle matter?" and in this article, we'll cover the study and ways to jump-start your healthy eating lifestyle. (The benefits are worth it!)
The Repercussions of Eating Unhealthy
Researchers Seonghee Cho and Sooyeol Kim assessed the psychological and physical effects of eating unhealthy foods, focusing on food consumed after work. Psychological results, such as guilt, came shortly after eating food the person perceived and felt was unhealthy. The physical results showed themselves in the morning through diarrhea, stomach aches, and bloating. 
According to their study, these results affected evening workplace performance. The results cannot indicate an exact percentage of decreased efficiency in the workplace, but they do show that what we consume has the power to influence how we feel for the rest of the day and the next. 
Other studies have also shown that eating healthy can increase productivity. Giving your body the nutrients it needs improves your mental capacity, stabilizes hormones, improves your immune system – the list goes on and on. 
Eating healthy may seem like a no-brainer, but doing so can be difficult when working and you don't feel like you have the energy to make yourself meals. Each person is different and will have dietary needs that vary depending on weight, height, body fat percentage (BFP), body mass index (BMI), and any dietary restrictions and needs.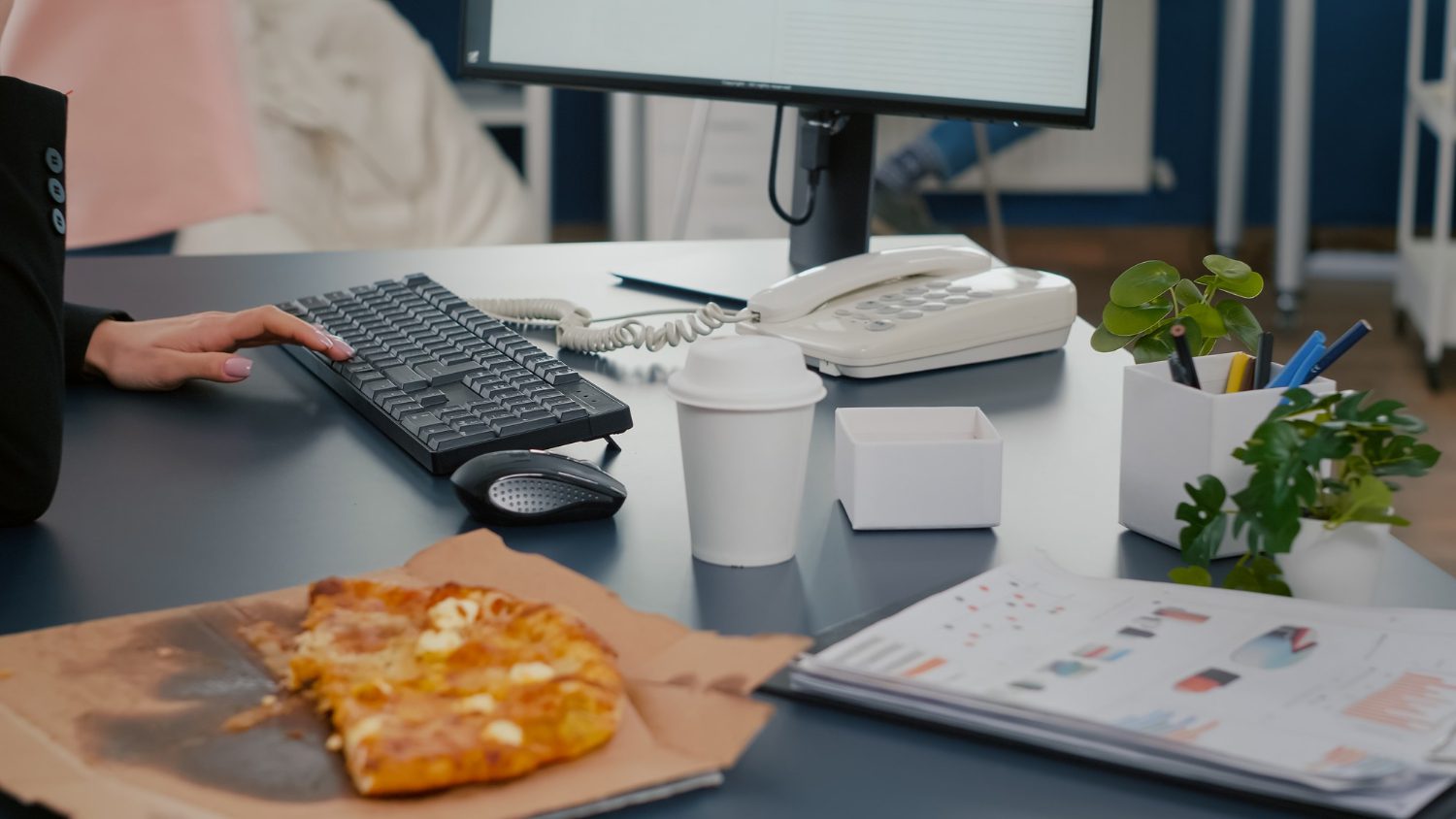 What's a Healthy Diet Anyway?
Ideally, your healthy diet will consist of tasty, nutritious foods that meet your dietary needs. But you first have to know what your dietary needs are to ensure they are being met.
To begin, let's determine your calorie intake. Using this free tool, you can determine your required calorie intake based on your current activity level, age, height, and weight. You can also use the calculator to determine your BMI and BFP. These will help you determine if you need to bulk up or slim down. 
Once you've determined your required calorie intake, you should consider what vitamins you eat. How you feel can be a good indicator of vitamin deficiency. If you find yourself constantly tired even after 8 hours of sleep, you may not be getting all the nutrients your body needs to sustain itself. There are vitamin deficiency tests available if desired.
Spice Up Your Food Life
Finding the foods that work for you can take some experimentation, but the general standard of eating includes daily servings of vegetables, fruits, and whole grains. The key is to incorporate healthy foods as the bulk of your diet and have unhealthy foods as planned treats. You are seeking a balanced diet. 
Your meal times can also be savory and fun. A strawberry banana smoothie, stuffed peppers, and chicken tostadas are all great foods to eat. If you like playing in the kitchen, try out some of these recipes. You may find a new favorite, and they don't take longer than 30 minutes to cook! 
Watch your portion sizes and make sure you don't overeat. If you feel full but know you could eat more, do not indulge. Eating after your body has had enough can throw off your digestive system and make it harder to recover. Treat yourself weekly and avoid overindulging.
Have Someone Cook for You
If you find yourself exhausted at the thought of cooking for yourself after a long day of work, you have options other than a greasy fast food sub! We've listed below some of the latest food services that give you tasty, healthy options with minimal effort.
Ranked as the #1 meal delivery service, HelloFresh gives you the option to indulge your eyes and stomach by ordering meals you want to try. They send you the ingredients and the recipes for easy assembly. You can save time and money by skipping grocery shopping and having your meals almost ready to go.
Don't want to bother with cooking in the kitchen? Daily Harvest offers healthy pre-made meals ready to go. Their commitment to fresh produce does come with an increase in price per meal, but their occasional deals can offset the price. This meal plan is perfect for the foodie wanting organic whole foods. 
An up-and-coming company, Huel sells ready-made meals in the form of vitamin powder. All you have to do is add water. Huel's unique take on swapping out meals for smoothies (which contain essential nutrients) has set them apart from other food delivery services. If you don't like the hassle of cooking, grocery shopping, and pondering where to go for lunch, Huel is suitable for you. Did we mention you save money with them, too?
Get That Increased Productivity!
We all want to live easier lives, and eating well is one foundational way to build lives of longevity and health. We make our future selves grateful for the low-fat enchilada we eat today. Eating affects our wellbeing, and it is up to us to be responsible for the food and drinks we consume. 
The benefits of eating well far outweigh the short-term benefits of satisfying our cravings. When you come off from work, enjoy what you eat and always choose healthy foods. You can go further in your career and life if you do.