Introduction
Like most burnouts, nursing burnout also boils down to demographic traits and work conditions. According to NAM (National Academy of Medicine), around 50% of professional caretakers in different medical fields experience severe burnout symptoms.
The most common nursing burnout symptoms include cynicism, emotional exhaustion, and lack of professional achievement. If nursing burnout is left untreated, it can lead to job-specific mistakes, a high turnover rate, and poor performance.
In some cases, severe nursing burnout even triggers suicidal tendencies. Stress for a prolonged period leads to disengagement and emotional exhaustion among many nurses. Nursing burnout is a harsh truth for some caretakers, but it doesn't have to define their careers.
What Constitutes a Nursing Burnout?
In a traditional sense, burnout refers to mental, emotional, and physical exhaustion. You can view this stress as a result of over-engagement that led to detachment and dulled emotions. Think of nursing burnout as a demoralizing factor that undermines motivation and creates a sense of hopelessness.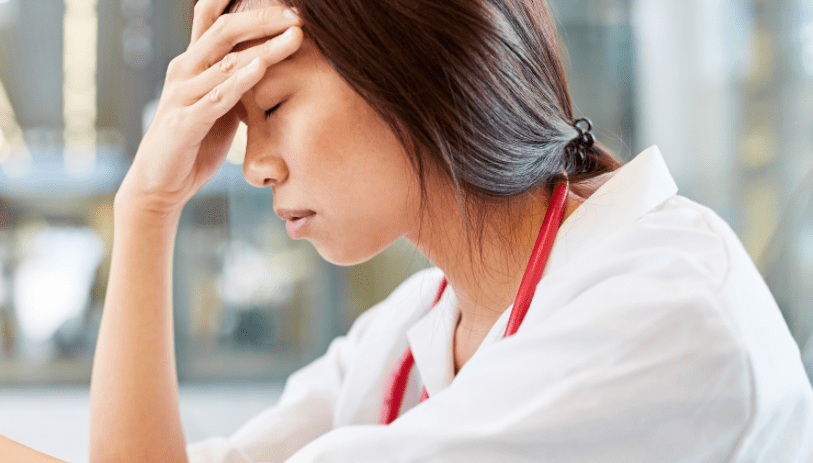 The Major Reasons for Nursing Burnout
The most common factors that led to nursing burnout include:
Long shifts
Coping with death or sickness
Working in a stressful environment
Prioritizing others first
Remember that nursing burning can impact healthcare professionals and patients.
What Does it Take to Survive Nursing Burnout?
❖ Get Proper Sleep
It is hard to overstate the importance of getting full sleep. A good night's proper sleep comes with a lot of benefits. When it comes to nursing, getting a sufficient amount of sleep is crucial to avoid burnout. And even if you experience other burnout symptoms, getting proper sleep can help you survive the burnout.
You can follow the path of professional nurses and adjust the sleep schedule that allows you eight hours of sleep each night or day. Think of the consistent sleep routine as a way to maintain concentration, motivation, stamina, and alertness throughout the shift.
❖ Develop Interpersonal Relationships
Nurses must have solid relationships in the workplace environment and at home to maintain impressive job performance and avoid potential burnout. If you're a nurse, talk about your emotional distress and devise a strategy to create a balance between professional and personal life.
You should even reach out to other nurses about work pressure that may be building up stress. Emotional support matters, and you're going to need someone inside or outside work to confide.
❖ Pay Attention to Your Mental and Physical Health
It would be fair to state that nurses must prioritize their physical and mental health to avoid or survive burnout. As a nurse, if you believe you're on the verge of burnout, call in sick. Former nurses, mindset coaches, productivity experts, and therapists suggest taking some time off if there is mental or physical exhaustion. If the symptoms are severe, opt for a therapy program.
❖ Create a Balanced Personal and Work Life
It may look easy to achieve on the surface, but it takes a lot of motivation and dedicated effort to create a balance between personal and work life. You'd be surprised how common it is for nurses to cross the thin red line between personal and work. The trick is to be mindful and present about your work and priorities at home.
Bottom Line
Professional nurses concur that the essential thing to avoid or survive burnout is learning to love oneself. It may sound straightforward, but nurses must be cautious not to become a slave to their patients and maintain a healthy work and life balance.
After all, nurses have to practice what they preach, which means putting your physical and mental health first. If you spot the signs, don't hesitate to reach out for help when you ne
Top Doctor Magazine
At TopDoctor Magazine, our mission is to foster connections within the health and wellness community, acting as a vital bridge between doctors and patients and facilitating collaborations between medical companies and healthcare professionals.
Our purpose extends to empowering our readers, providing them with the knowledge to make well-informed healthcare and lifestyle decisions.
We take pride in being the ultimate resource for interviews with health and wellness leaders, delivering trending medical news, and covering a wide range of healthy living topics.